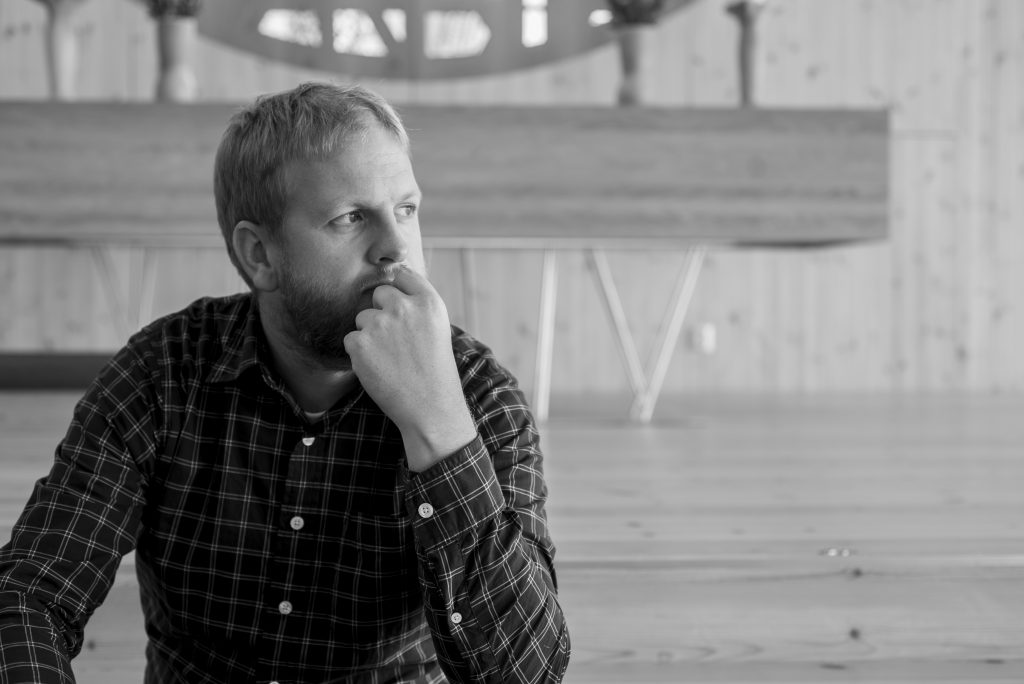 Hallgeir Øgaard Westli, born 1984 in Bergen, Norway, started his musical path, when he learned to play the violin as a six year old. However, after just one year of playing violin, he figured out that piano was more to his liking, and therefore he started to play the piano instead.
After five years, where he mainly played the piano (allthough he also played Baritone in the local school-band for some time), he started to play the organ when he was 12 years old. From 1998 until he went to study at Viken Folk High School in 2003, he was taught by his uncle, Kristen Øgaard, who at the time were organist in the Church of the Cross in downtown Bergen.
He was a student at Viken Folk High-School at Gjøvik from 2003 to 2004, and during his time there, Hallgeir was awarded "Statoilprisen", a prize given by Statoil Mongstad, the biggest oil-refinery in Norway, to young musical talents of the region of Nordhordland and Gulen north of Bergen. This highly influented Hallgeir's decision of making his organ-playing into his profession.
In 2004, Hallgeir started his education at the Grieg Academy in Bergen. During his four years here, he had Karstein Askeland, organist of St. Mary's Church in Bergen, as his teacher. His other teachers included Stig Wernø Holter (hymnology, liturgical theory and playing, counter-point, improvisation etc) and Sigbjørn Apeland (improvisation).
From 2002 to 2008, except of the year in Gjøvik, Hallgeir was employed as second organist in the parish of Alversund, which included three churches and one chapel.
From 2006 to 2008, he was also employed as organist and pianist in the choir-school of Åsane Church. During his time in Åsane, Hallgeir, amongst other things, played the organ at three services that were recorded and aired at the NRK, Norwegian Television Network during christmas 2007. He also played the organ in a performance of Georg Friedrich Händel's "Messiah".
From 1999 and to the present day, Hallgeir has had numerous concerts in Norway and abroad, including Bergen cathedral, Skien church and Odense cathedral, Denmark.
From 2008 to 2011, Hallgeir has been employed as musical director and organist of Vardeneset Church, a fairly new church built in 2000 in Stavanger. During his time here, he has been the musical leader of Vardeneset Church's 10 years anniversary in January 2010. This was a festival going over one month, where he amongst other things had a concert with Norwegian guitarist and singer Ole Paus.
In November 2009, Hallgeir was involved in the founding of a new concert-series in Stavanger, "Orgel i sentrum", which has as a goal to spread organmusic in the region of Stavanger. It's also supposed to be a great inspiration for the organists in the Stavanger-region.
From June to December 2011 Hallgeir was employed as organist and musical director of Salhus Church in Bergen. Here he was in charge of laying the ground works for the church's new organ, which was inaugurated in 2014 (Metzler Orgelbau).
From January 2012 to July 2015, Hallgeir was employed as organist and musical director of Arna church in Bergen.
From August 2015 Hallgeir is employed as organist and musical director of Leikanger church located by the beautiful Sognefjorden in Norway.